February 05, 2021
Among the myriad epiphanies and the changing lifestyle habits that the pandemic has unleashed over the last several months, mankind's renewed enthusiasm for bicycling would, perhaps, sit right among the top 5 post-lockdown adaptations that all of us would want to see being trending for long. While the urban dwellers across the globe seem to get smitten with the eco-friendliness and health benefits of bicycling today, Bikash Doley and Ajanta Boro had their passion rested on the pedals since the time when luxury cars made a better choice for people over bicycles. The thrill and the sense of freedom that these non-polluting two-wheelers offer to them are over and beyond the comfortable life that their corporate jobs in Kolkata had secured. In 2016, the couple decided on homecoming, which was about to change their lives forever.
Back to their hometown, Guwahati, the duo took their first big step towards living their passion by opening Guwahati Bicycle Rentals – a high-end bicycle renting outlet that also offers customized cycling tours. Soon, a personal experience had brought them face-to-face with the dearth of servicing centres for high-end bicycles in the city. The few that did offer to service were strictly restricted to servicing their brands alone. Without further ado, Bikash and Ajanta had set themselves to shaping up a full-fledged bicycle hub that rented, retailed, customized, and provided complete after-sales servicing of high-end cycles. This had marked the beginning of Spokehub Cycling in 2017.
Spokehub is the go-to stop for everything related to high-end bicycles – right from purchasing, to customizing, to buying riding accessories, to cycle tours, to cycle servicing and maintenance, to sharing camaraderie with a community of people with a common passion.
Sharing her experience of starting a bicycle store in the city back in 2017, Ajanta recalls the scarce footfalls and limited enthusiasm among the people. "There weren't too many riders in Guwahati back then. One reason could be that there weren't too many bicycling events to create the excitement and the occasion for riders to use their cycles," the co-founder says.
Perhaps, it won't be wrong to mark that although Bikash and Ajanta had rightly gauged the market opportunity for high-end bicycles, they still had a task in hand to rejuvenate that market. They took things in stride to design bicycling events in Assam that naturally attracted riders from across the country to participate. Tables began to turn sooner as the latent riders in the region saw an opportunity being finally created for them to practice the thrill.
"Conducting events is a must because if I am buying an expensive bicycle, I would want an occasion to use it as well," Ajanta explains.
Spokehub started torch-bearing bicycling activities with prolific cycle rallies and adventure sports. Soon, the corporate houses began joining hands as part of their CSR drives. The ripples created by the startup among the rider community didn't escape the notice of the government departments either. Bikash and Ajanta have bagged government support, both in cash and kind, to organize cycling events that carry an inherent promise of popularizing the healthy habit of bicycling among the people. Besides, they have also been the technical partner for numerous events in Assam.
3 years down the line since starting up, Bikash and Ajanta have activated a bicycling cult in Assam that swears by the camaraderie born from the common passion for thrill coupled with the likeness for simplicity as well as health and environment consciousness. One of their four annual calendar events, the Assam Downhill Championship, has especially been a head-turner for three consecutive years now because of the gravity-defying racing stunts it puts on offer. The pan India participation of riders in the Championship has further consolidated the esprit de corps in the community.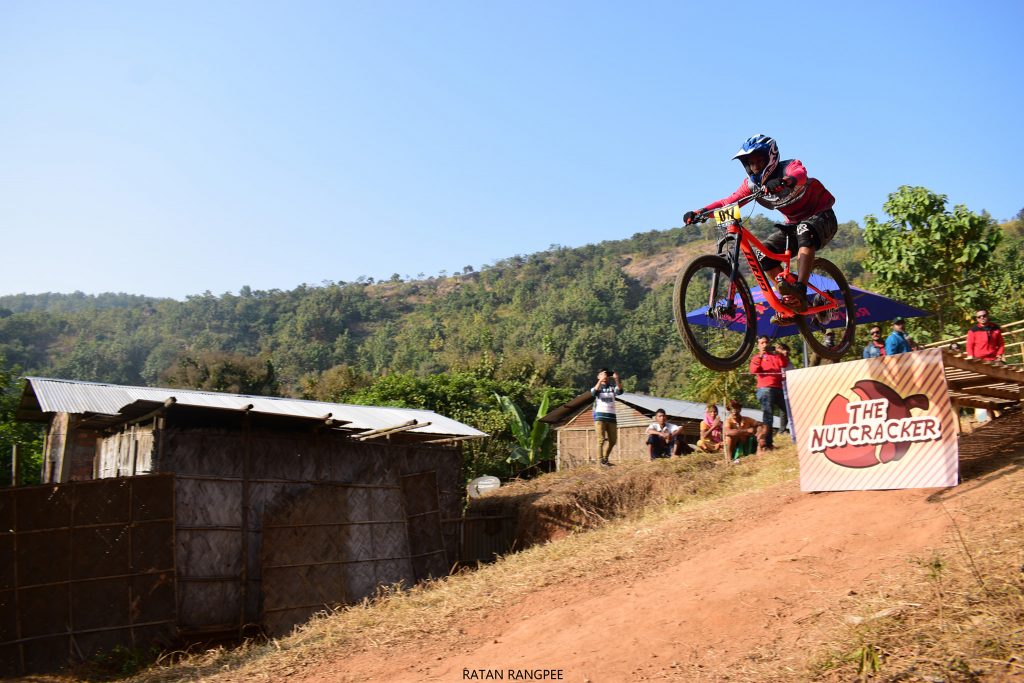 As per the founders, Spokehub is driven by two broad motto: First, to promote cycling as an adventure sport among the youths. Secondly, to offer new goals in the form of health and distance rides to those who have already achieved enough career goals.
Ajanta further informs about forming a special 3-member team from the rider community, who have been leading Spokehub's Athlete Training Program to inspire and train young riders. These make for an interesting case study on the application of deft strategies to create a market for something not many prospective customers had realized a need for earlier.
From the business perspective, the founders are focused on ensuring repeat customers to make it more sustainable. That is the reason they lay constant emphasis on the bicycle servicing part of the business. "We want the people to purchase bicycles from us and come to us for servicing as well. Banking exclusively on one-time purchases will not be viable from the aspect of sustainability," Ajanta elucidates.
The decision is faring well for them as the startup is progressing steadily in the number game, with an average monthly revenue bracket of Rs. 35 lakh – Rs. 40 lakh for the last 6 months. For a business that has seen a remarkable spur in the last several months, thanks to the global bicycle boom during the pandemic, Spokehub founders will not want to lose the momentum at any given point in time. Much expected, they are leaving no stone unturned to chalk out a sustainable model for expansion.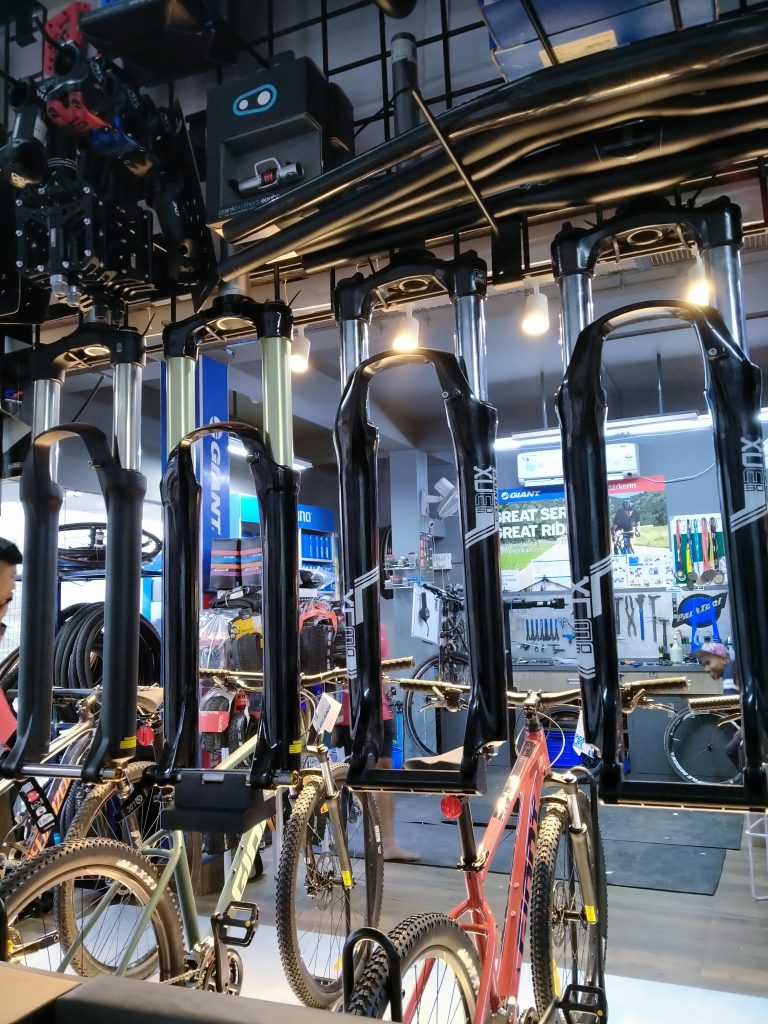 Alongside the two stores in Guwahati, Ajanta and Bikash will soon be launching a new bicycle hub in Upper Assam. Their e-commerce site for mountain bikes will be up this year. Interestingly, they have also started training the technicians at bicycle stores in North East India to enable competent servicing in those stores. Ajanta informs about their plan to conduct training in a quintessential classroom setup with structured schedules soon.
The stone has started rolling for Spokehub, but Bikash and Ajanta attribute a good part of their recent developments to Assam Startup. Before getting incubated at Assam Startup – The Nest, the duo devoted their efforts to perfecting their offerings while the processes were given a miss. But the interactions with the mentors from IIM Calcutta Innovation Park during the incubation have helped them streamline their processes for a more efficient back-end operation.
"Our billing processes were mainly offline. But now, we have got a cloud-based platform that has streamlined the process. As we grow and expand, we have also realized the need to focus on HR like never before. Incubation at The Nest has further helped us pick up the much-needed financial aspects of a business. Assam Startup has given us a definite direction to structure our startup better," Ajanta concludes.
The startup was also awarded a MASI (My Assam Startup ID) Scale-up grant of Rs. 15 lakh in the first tranche last year by the honourable Chief Minister, Sri Sarbananda Sonowal, at The Nest during a celebratory event – Udyam Assam.
As per estimates, India's bicycle industry is worth Rs. 7000 crore. And with the pandemic not just magnifying the benefits of bicycling as a form of exercise but also as a means to commute, Spokehub is positioned perfectly in the clock to scale up to a national level in the coming days.
Knowing that scaling up nationally would require a fresh round of market research, manpower, a well thought out Go-To-Market strategy, and heavy capital at disposal, the journey will surely not be any less nerve-wracking than participating in a cycle race on rough terrains. And yet, when asked if given a choice whether they would go back to chairing an esteemed corporate post or continue with the struggles and risks of running a startup, pat comes Ajanta's reply: "Of course, we will choose the struggle over the security of a corporate job. It has brought us back peace of mind. Despite the insurmountable amount of hard work, we are now a pair of happy startup founders. And there's no way that we'd let this go."
Satarupa Mishra