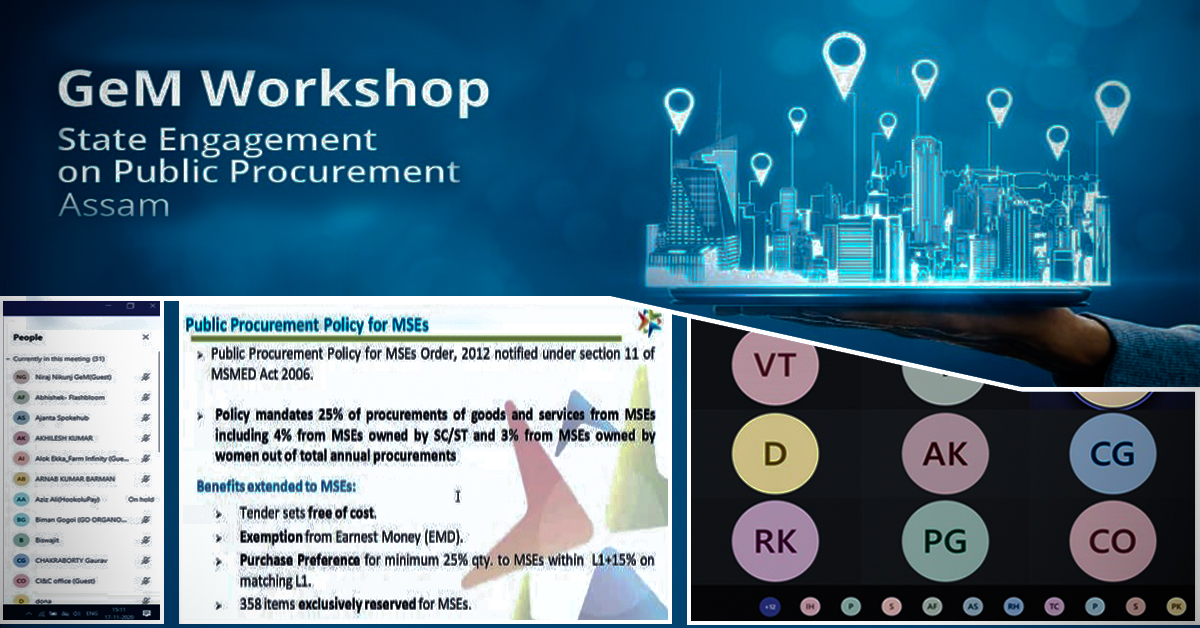 Workshop on "State Engagement on Public Procurement Procedures" conducted for startups
Assam Startup collaborated with Startup India to conduct a virtual workshop on "State Engagement on Public Procurement Procedures" on 17 November 2020. The session was primarily intended around familiarizing the startups with the various aspects of public procurement policies and giving away handy guidelines on leveraging the existing business opportunities to optimize the value propositions.
The keynote speaker, Niraj Nikunj, spelled out the perks of being a GeM registered startup and also spoke at length about the procedure for registration.
The 30+ startups attending the workshop had put forward some encouraging feedbacks, enumerating the advantages that they had derived from the session.
"It was a very informative session. The speaker, Niraj, was knowledgeable and had hands-on experience. So he could address all the questions effectively. Thank you Startup India and Assam Startup for organizing this workshop," said Gaurav Chakraborty, the founder of Aranyak Valley and an incubatee from the first Cohort.

Abhishek Pal, a Cohort 2.0 incubatee and co-founder of Flashbloom Industry also conveyed his satisfaction with the workshop. "It was an insightful discussion and I got to learn about a huge potential market. I would request the Assam Government to make GeM registration mandatory as soon as possible," he said.
Government e-Marketplace (GeM) is the national public procurement portal offering end-to-end solutions for all procurement needs of the government departments and their autonomous bodies. It has transformed public procurement in the country by leveraging technology and making procurement contactless, paperless, and cashless.
The startups registered on the GeM portal can avail of diverse benefits like raising multiple invoices for a single order, new product suggestion option, easy access to participate in bids/reverse auction, online grievance redressal mechanism for quick resolution, a seller-friendly dashboard for monitoring supplies, and payments, dynamic pricing, consistent and uniform purchase procedures, and direct access to all government departments and its autonomous bodies, etc.
The registration process on the GeM portal is absolutely free and comes without any hassle.
Ranjit Baruah, an incubatee from Cohort 2.0, got his startup registered on the portal during the session itself. "Got my company registered in GeM through this session. Thanks to Startup India and Assam Startup for conducting this program," he says.