October 16, 2020
Career counselling in India is yet to amass the weightage it should ideally command. The industry is short of an estimated 15 lakh career coaches to cater to the 315 million strong student market. The figure projects a stark gap when compared to the 2.6 million student career advisors in the US for its 56 million students. While a number of progressive schools in the country are waking up to the cruciality of career counselling, the larger social milieu still finds itself shackled in the trite belief in choosing from a handful of traditional career options, irrespective of one's innate knack and aptitude. As career counselling and mentoring in India slowly witnesses a growth against the odds, a startup from Assam – Career Spark – is rising to the occasion, offering experiential career mentoring and guidance towards building a holistic career ecosystem.
An incubatee from the first Cohort at The Nest, the startup has roped in internationally certified career coaches to serve as beacons for school and college students in making aptitude-aligned career choices. While working for his first startup, Edugenie, founder Dinesh Lahoti discerned the need for unbiased career guidance for students to help chart out illustrious careers.
"The biggest pain point we are trying to solve is to enlighten people about different career options and pave the path for a happy and meaningful career. Lack of knowledge about various career options has haunted people and has driven them to choose the wrong careers," the founder says.
While career counselling in India is chiefly based on psychometric tests, Career Spark goes two steps further to offer practical career experience through internships, regular mentor interactions, structured challenges, and hands-on projects. Furthermore, they help the students incorporate the right mindset to crack the entrance exams through dedicated mentoring and an innovative "How to Learn" module.
Rather than following a tried and tested method, Career Spark's comprehensive approach benefits from Dinesh's elaborate experience of networking with successful people from various fields to develop a 3E-stage philosophy: Explore, Experience, and Excel.
"People usually focus on the prospects and possibilities of a good career. But along with a good career, Career Spark also talks about what a wrong career can lead to. It is simply a life full of "Un"!- Unhappy, Unproductive, and Unemployed. In the dynamic environment of the 21st century, a wrong career choice can break you. We are approaching counselling as a way of thinking so that students can think about a career in a more structured way which will ultimately lead to better decision making," Dinesh elucidates.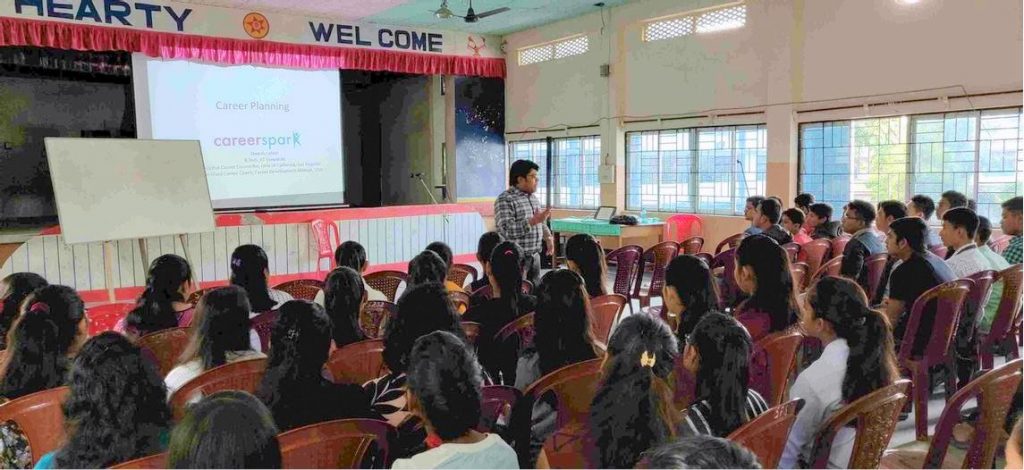 To date, the startup has onboarded more than 75 coaches and mentors and has mentored over 1000+ students. One of their students, Pratik Hazarika, successfully made it into the University of Massachusetts, Amherst, with an annual scholarship of $12,000 for pursuing his dream career in Computer Science. Another student, Dayamay Paul, who was initially preparing for engineering, found his true calling in Design after getting in touch with Career Spark. He went on to crack the UCEED entrance with AIR 80 and has found a seat at IDC School of Design, IIT Bombay. These success stories of students speak aloud about the efficacy of the counselling model designed by Lahoti and his team.
An alumnus of IIT Guwahati, Lahoti always reared a yearning to 'do something innovative in education.' His love for Mathematics inspired him to thaw the mathematics phobia commonly bothering the students. Subsequently, he founded his first startup – Edugenie – to help students chase the phobia through fun and ingenious method of teaching Mathematics. It was during his tryst with the students that Lahoti came face-to-face with the need to provide unbiased guidance to the students in making informed and aptitude-based career choices.
The founder reveals that filtering correct information from an ocean of misrepresented and biased viewpoints on career options has been the biggest challenge for the startup. The research on viable career options consumes major time and is most crucial to ensuring fructifying guidance to students. Besides, Lahoti also points out the difficulty in 'defining and executing the mentoring process', taking into account the specific needs and challenges of the Indian students.
"Most of the existing mentoring and counselling models are largely replicas of the versions designed for the Western countries. Our team has been working to design a mentoring model specific to the Indian context," the founder explains.
The most noteworthy factor while talking about the Indian context is the involvement and expectations of the parents. Either trying to fulfill their unfulfilled aspirations through their children or imposing their limited knowledge on them, the participation of the Indian parents in deciding the students' career goes without telling. Taking a deep understanding of the context, Career Spark will soon be launching a program, "Parent as Coaches" to empower parents in helping their children in their academics and career. Dinesh is hopeful about thawing rigidity among parents about the myriad new-age career choices. Nevertheless, it's a long way to go for creating mass awareness and acceptance of the dynamic nature of work and workplace, taking into account the pros and cons of various fields. This way, the parents won't only grow more informed, but will also be able to guide their children in making informed career choices.
While the startup has been making steady progress over the last year and a half, the pandemic has proved to be a blessing in disguise that has spurred decent traction. COVID-19 compelled them to pivot the business model and go predominantly digital. This has enabled them to reach parents and students beyond the region through career counselling and mentoring webinars.
Interestingly, the experience has also triggered new learning for Dinesh. "Conducting these online sessions made me realize that most students know what to study, but they don't know how to study. We sensed the need for making them independent learners or Atmanirbhar students." Taking a cue from this, the Career Spark proactively got down to developing a new module – Atmanirbhar Student module – based on learnings from Neuroscience and Psychology. Currently, they are piloting the module with a group of high school students and their parents and are aiming to launch the program by November this year.
Recently, the startup has bagged Rs. 5 Lakh grant at the NERES 1.0 Summit organized by IIE, FINER, and supported by the North Eastern Council (NEC). Besides, they are in touch with a couple of angel investors who have expressed interest in their model.
Career Spark is all set to dazzle internationally as the founder gets certified as a Career Services Provider by NCDA Credentialing Commission, making him one of the few Indians with this prestigious certification. The certification enables him to offer career counselling services to overseas students, especially from the US.
As a professional who has been actively involved in the education sector, Dinesh has a message for the aspiring Edu-preneurs: "Education startups are intensely impact-driven and want to bring a change. But, getting swayed by emotions does not help. Stay focussed on the problem you want to solve. Do not get distracted. It takes a lot of time to build trust and credibility among all the stakeholders in the education sector. Be patient and persevere before you go big."
Here's a story of two sibling entrepreneurs who have created a platform that benefits the users and the hyperlocal service providers in Guwahati alike.
By: Satarupa Mishra