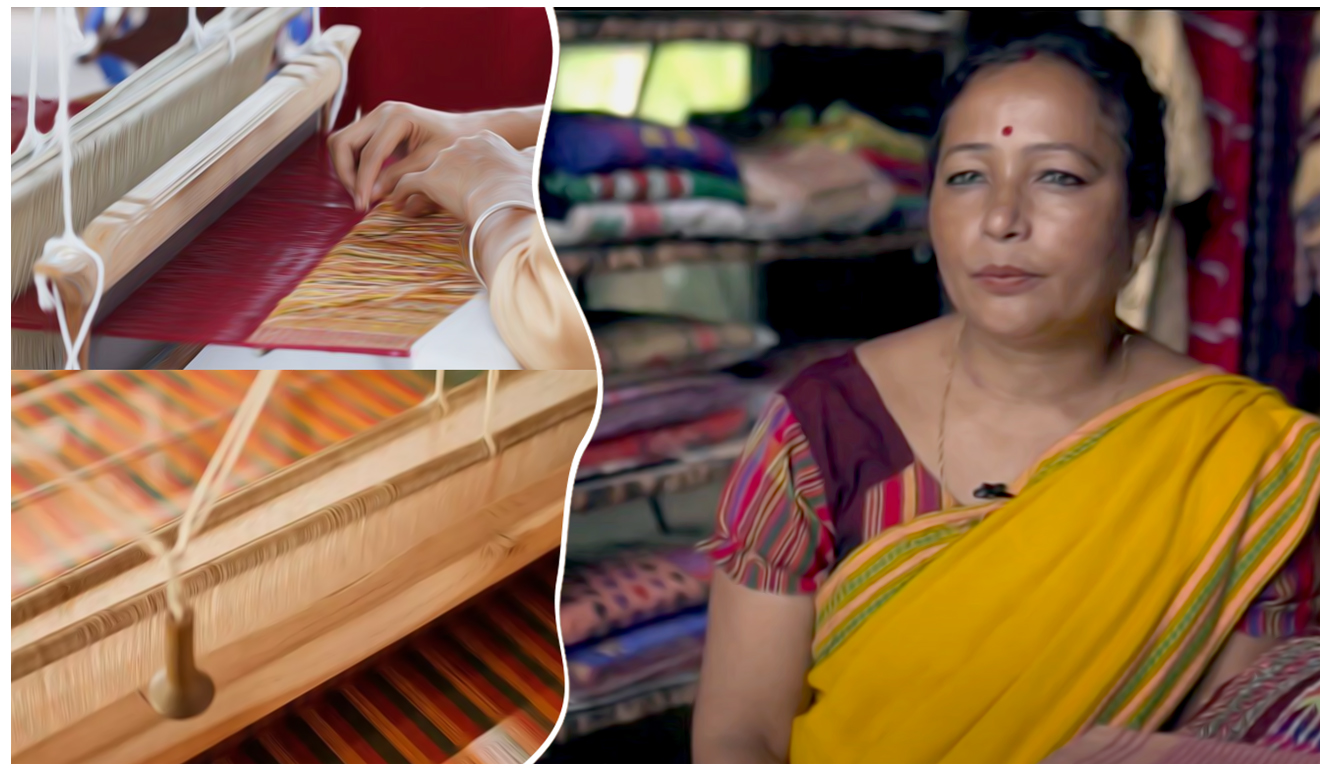 October 22, 2020
From the lanes of Kaziranga have emerged a resilient voice to protect the environment from the toxic effects of plastic bags through an innovative twist on the traditional loom. One might imagine fierce activists and seasoned leaders behind the voice. However, take a closer view and you will see ordinary-looking women traversing the lanes, rag picking plastic litters, and weaving those into magic on the loom. Meet the woman entrepreneur behind this silently evolving movement – Rupjyoti Saikia Gogoi.
The global popularity of Kaziranga as a tourist hotspot has an untended flipside to it. Crowded footprints to the place have resulted in increased littering, especially plastic wastes. Rupjyoti, who had silently fidgeted about it, decided to embark on a solo journey to find a solution to this. In 2004, after consulting with her mother, she started an initiative for creating awareness among the women of her locality for reducing plastic waste through an affordable, innovative, and aesthetic plastic recycling mechanism by leveraging a traditional skill.
Under her initiative, "Village Weaves," Rupjyoti encourages the local women to collect littered plastic bags and trains them to use these finely cut plastics in weaving beautifully crafted furnishing items on the throw-shuttle loom – a household possession in the Assamese community. These plastic ribbons are used as traverse weft woven over-and-under the longitudinal cotton warp yarn. The final fabric comprises 50% each of the cotton and plastic threads, resulting in a strong and durable texture. The fabric is then used to handcraft beautiful table mats, doormats, handbags, tote bags, and other furnishing items.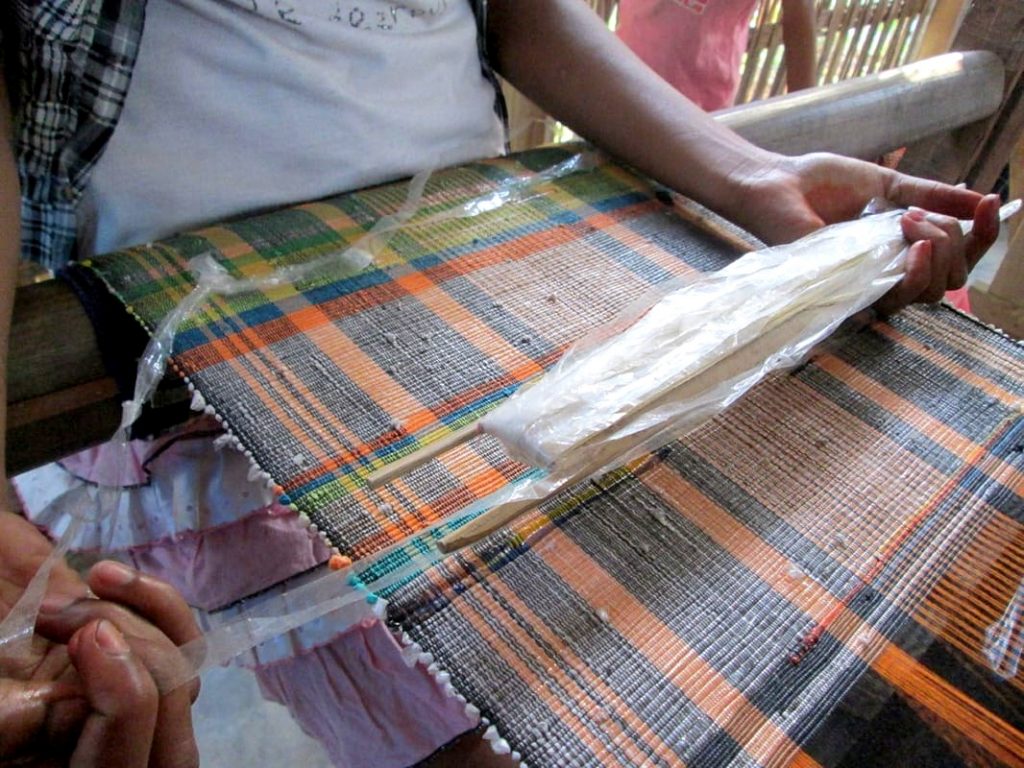 A sales outlet has been set up at Kaziranga called "Kaziranga Haat" that attracts a good number of domestic and international tourists to browse through the finished products and make good purchases. The tourist seasons have especially yielded good income from the outlet. Rupjyoti mentions generating over Rs. 3 lakh in the previous financial year. There's a tinge of pride in her voice when she says that the women weavers in her network manage to earn Rs.15,000 – Rs. 25,000 monthly (particularly during the tourist season) through sales of the finished products.
Rupjyoti's "Village Weave" smartly and effectively serves dually to abate the environmental threats from plastic as well as empower the rural women to earn a decent livelihood. To date, she has trained around 2300 women across 35 villages of Assam as well as in Arunachal Pradesh. What more, the entrepreneur has trained international students during workshops held in Mumbai and Dehradun. She carried a portable loom fixed on a table that was designed with help from her husband, who is also an artisan. In course of her endeavour, Rupjyoti has been gradually building a community of woman entrepreneurs, steadily rising in courage and confidence to own the boss hat towards creating an impact.
Besides creating a steady movement to save the environment from plastics by inculcating a habit for effective plastic reuse and recycling, Rupjyoti's mission is also inclined to empower rural women with awareness, basic knowledge, and skill to earn livelihoods while indirectly playing their parts to save the environment.
Social entrepreneurs like her reinstate the belief that a genuine intent to make an impact, an ardent zeal to create value, and the courage to take the first step are the core ingredients for entrepreneurship. For the rest of the ingredients, there are business incubators to help with business knowledge, networking, and market access for nascent entrepreneurs to metamorphose into flamboyant ethical leaders.
By: Satarupa Mishra