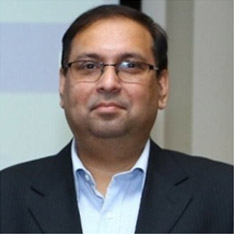 CEO, IIM Calcutta Innovation Park
Dr. Shubhrangshu Sanyal is a Startup Evangelist and an experienced Management professional, with special expertise in Innovation Management, Business Process Re-engineering, and Program Management and having implementation experience in multiple geographies. He has a strong consulting background with a Doctorate (Ph.D.) from National Law University, Post Graduate Diploma from IIM Calcutta, and a Bachelor's Degree in Mechanical Engineering from Jadavpur University.
As the Chief Executive Officer of a renowned business incubator, he is actively engaged with the key stakeholders in the entrepreneurship domain (e.g. Government, Academia, Corporate, Investors) and involved in creating a strong, enabling ecosystem for the start-ups, with a special focus on East and North East India. He is also engaged in incubation activities like sourcing, mentoring, capacity building, and funding of the startups.