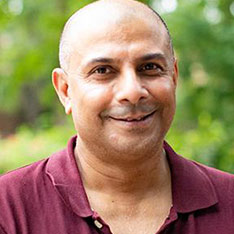 Brief Profile: Visiting Faculty, IIM Calcutta , Advisor, CEO, Founder Director.
LinkedIn: https://www.linkedin.com/in/cdmitra
Chandradeep (CD) Mitra is an Advisor to the Centre for Entrepreneurship and Innovation at IIM Calcutta. He is a well-known Professor of Marketing & Innovation, Senior-Level Corporate Trainer, and Mentor to a wide range of organizations, leadership coach for startups and social enterprises, and an entrepreneurship evangelist.
He conducts several cutting-edge marketing courses at IIM Calcutta and MICA and is also a guest faculty at IIM Lucknow, IIM Indore, IIM Kozhikode, ISB Hyderabad, XLRI Jamshedpur, and XIM Bhubaneswar.
An engineer from IIT Kharagpur, with a Masters in Business Management from IIM Calcutta, CD Mitra has headed Indian operations for global companies like Lowe Lintas, O&M and DDB Mudra.
He is also a Charter Member and Secretary of the Kolkata Chapter of TiE, the leading global organization for fostering entrepreneurship.
Through his two companies – PipalMajik & Anvetion Consulting – CD Mitra has mentored a number of Indian and global startups, social entrepreneurs, and SMEs. He also plays the role of a Branding & Innovation Consultant and Corporate Master Trainer, to help organizations manage transformation and drive innovative growth strategies.