September 03, 2020
In 2017, when the Department of Industries and Commerce, Government of Assam, picked up the baton to formulate the Assam Startup Policy, its topmost priority was to find a strong and long-term solution to a critical problem of the state – Unemployment. The Assam Startup initiative is the result of imperative brainstorming to develop a model for self-sustenance wherein the youths are empowered to write their own destiny rather than depending on the corporates or even the government to determine their career graph. Imagine if we have a thousand number of youths turning into successful entrepreneurs over a span of 5 years, how many job avenues will they be able to create for a thousand others! But this cannot happen in a single day, a month, or, for that matter, even a year. It's crucial to overcome some deep-rooted challenges if the dream of an entrepreneurial revolution in Assam has to be realized.
The first and most crucial challenge is Mindset. Ask about one's notion of an ideal career and most of them will say, 'I want a job that assures security and a decent salary.' Entrepreneurship, on the other hand, is about a die-hard passion to take risks in order to achieve impossible milestones. On the contrary, we are mostly averse to taking risks. In fact, risk-taking is often considered a wild vice. But let's not blame anyone for this. It's a mindset intrinsic to our upbringing. Most of us have grown up believing in 'getting settled' with a decent job for survival. Why take risks and walk extra miles when life could be easy and stakes secured by bagging a decent job? In order to convince ourselves that we are far more capable than being mere survivors is something that would take time, awareness drives, and a few success stories from the local ecosystem.
Talking about success stories, these stories must, very importantly, reflect the kind of impact that they are making in society. Profit-making is just one part of it. For instance, the story of a common man with a degree from India's top management institute, dismissing offers of executive-level jobs to make homecoming and hit the fields of rural Assam to start a community farming project. Immediately the focus diverts from the amount of money and comfort he missed from a possible high profile corporate job to the amount of good he has done to the community of farmers of his home state. Imagine the magnitude of respect he commands through his efforts and the impact that he creates. Let's also understand here that apart from security, another very important element attached to a job or career in this part of the world is Respect. Most of us want our children to grow up to be doctors, engineers, professors, or maybe someone holding a coveted position in the administration. This desire does not just emerge from the income considerations, but equally from the kind of respect that these professions command. As such, it becomes important to convey to the people that entrepreneurs do not only make profits but also command an immense amount of respect because of the positive changes that they bring in society and to the economy as bold and ethical leaders. When we talk about changing mindsets, change must be brought, both, in the youths to try and tread the path of entrepreneurship, as well as in their parents to support the decision to take up entrepreneurship. And this can come through extensive awareness campaigns across the length and breadth of the state.
However, even if one has finally realized the amount of money and respect that entrepreneurship can bring, he/she might still pat an argument: "Business isn't in our blood." It's very common among us to say that business comes naturally to someone in Gujarat or Rajasthan, but not to us, with a few exceptions. Perhaps, what they see as a genetic construction is, in reality, a lack of exposure. This brings us to the second challenge: Exposure. One will remain unsure and scared about a thing as long as he isn't exposed to it.
Talking about the importance of innovative thinking and problem-solving skills for successful entrepreneurship is easy. But the question is how to imbibe the skills when one isn't exposed to these? In order to stop playing safe and start taking risks without fear of failure, the need is to get exposed to a challenging environment where brilliant risk-takers are playing smart gambles to successfully resolve problems through innovative thinking.
In this part of the world, even if someone thinks of a startup idea, he would, most possibly, bury it within himself without realizing the possibilities of building his idea into a profitable, scalable, and sustainable business venture. Cut to a city like Bangalore, Mumbai, or Delhi, a youth deciphers the commercial viability of an idea as soon as it hits him. He isn't scared to shape his idea into a business because he is completely familiar with startups and entrepreneurship. He has seen people discussing startups and businesses at the coffee table. He is in sync with the entrepreneurial environment. It is this kind of exposure and familiarity to entrepreneurship that we are wanting in.
Need has been felt for creating a buzzword among the people of Assam about startup and entrepreneurship. The way North East India feels at home with music and guitar, a startup trend needs to be created with a supportive ecosystem so that the youth feels at home with startup and entrepreneurship as well.
However, even if one has the required mindset, it all comes down to being null without the knowledge of doing business. Lack of Business Knowledge is the third challenge typically faced in Assam. As mentioned earlier, being more of a job-oriented community, our interests as well as the academic curriculum are focused more on job-based subjects than on entrepreneurship courses. We must understand that while passion and risk-taking are entrepreneurial virtues, it will end up like a mighty bedlam without strong and levelheaded knowledge of the business. That's one of the fundamental reasons why a lot of brilliant ideas die down in Assam without making any noise.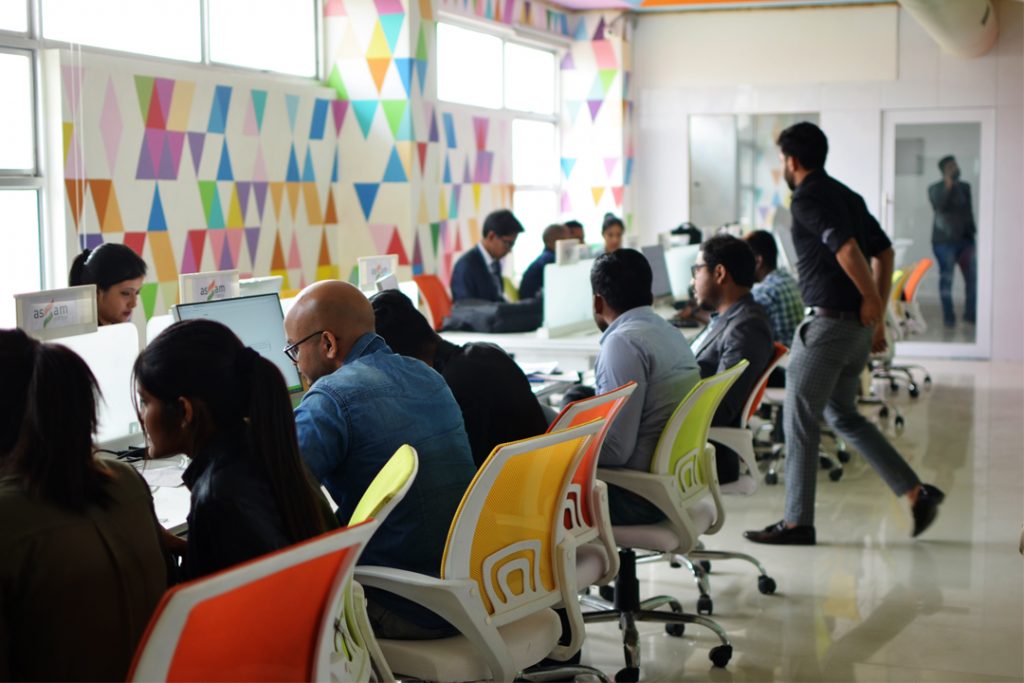 It was this understanding that propelled the launch of Assam's first state-owned incubation centre, The Nest, wherein brilliant ideas are given suitable directions for their best possible execution. Fledgling startups are made aware of the best practices and thoroughly mentored about what to do with an idea and how to develop it into a suitable business model. The IIM Calcutta Innovation Park, having years of experience in building startup ecosystems, especially in the East and North-East India, has been entrusted with the responsibility of implementing the initiative by the Government of Assam. India's premium institution is vested to impart the much-needed business knowledge, provide intensive mentoring and handholding to the startups so that they end up with the required knowledge and confidence to fly high after graduating from the incubation centre.
With over 5000 young innovators and fledgling entrepreneurs currently toiling in the state to realize their entrepreneurial dreams, the seeds have surely been sown for raising a fertile entrepreneurial landscape in Assam. It's now up to the ecosystem developers to nurture these young entrepreneurs, support them with adequate resources and infrastructure, and fortify them with sound business know-how and confidence to create local heroes out of them. The good news is that the process has already begun. A unified community of passionate people is emerging gradually that sees entrepreneurship as the common answer to the variegated problems in the state and shares the common goal of seeing Assam emerge as one of the top ecosystems in the country.
While Assam Startup has been conspicuous by its leadership role in creating a startup movement in Assam, perhaps, the emerging startup rising in Assam would fall short of the desired outcome without full-fledged participation from the stakeholders and expert contributions from other key industries, especially the ones working with startups, entrepreneurs, and MSMEs. Activation of EDCs incubation centres in various academic institutions in the state project an encouraging trend in this regard. Premium institutions like the Indian Institute of Entrepreneurship (IIE), STPI, Guwahati Biotechnology Park, and Technology Incubation Centre (IIT Guwahati) are sharing the baton along with Assam Startup in encouraging entrepreneurship, scouting for promising startups and innovators, and helping them with resource and research infrastructure for product development and reaching entrepreneurial goals.
By Satarupa Mishra